ALCINE VR. Journey to the Centre of the Multiverse
Sala Antonio López – Former Hospital Santa María La Rica
Exhibition from 9 th to 25 th of November 2018
Screenings from 9 th to 17 th of November 2018.

Humanity has always been fascinated by the stories of others, from the times of Shamans holding court around a bonfire to modern super-
productions.
Stories, theatre, cinema… hold us spellbound. But when the opportunity comes to be more than just a mere passive spectator and to turn those
stories into our own experiences, when we can participate and change the course of events by taking control of the narration, a whole universe
opens up before us for exploration.
At the turn of the millennium, the videogames industry was increasingly beginning to resemble the world of cinema, until in recent years
technological developments enabled the intersection of these two worlds.
An educational tour of the history of this new format combined with some collector's items and some of the sector's most state-of-the-art
productions will provide us with a first-hand idea of concepts such as virtual reality, augmented reality and expanded cinema, and our senses
will help us understand how these productions, a far cry from the fairground attractions of old, are able to reveal to us a new audiovisual
language which is here to stay.
In addition, ALCINE is proud to present an international exhibit including some of the most outstanding productions in this new field.
From Jurassic blockbusters to independent productions, renowned directors such as Alexandre Ajá from France, or new figures yet to be
discovered such as Selly Rabe Kane from Senegal, as well as a whole generation of new virtual native creators who will no doubt get tongues
wagging.
Welcome to the future of interactive cinema content, where the audience is the star and nothing will ever be the same again.
Description of the exhibition:
Room 1: VR Museum. [In collaboration with The Greyskull Company]
A journey from the first prototypes to the models of the future of this type of technology using informative panels and showcases
containing hardware from the pioneering models to prototypes not yet on the market.
Room 2: 360 Multi-cinema [In collaboration with SAMSUNG]
Screening rooms with pieces from all over the world, from Russia to Senegal, through the United States and, of course, Spain. Armed
with SAMSUNG Gear VR equipment, we will provide a 360 panorama in the form of animated fables, fantasy and science fiction stories,
journeys in time and space, to exotic corners of unknown Africa or to Isla Nublar itself, and we will feel the shivers down our spines as
horror stories are told around a camp fire.
Room 3: Immersive laboratory [In collaboration with AZKEN MUGA]
Room devoted exclusively to showcasing two immersive experiences in which it is even possible to move around two interactive worlds:
the fun and eccentric Madrid Noir in a cartoon adventure in the purest detective style, or visit 2026 alongside a scientist concerned
about climate change in Melita.
Parallel activities:
The Starting from Scratch workshops, from the 12 th to the 15 th of November, will hold a 360 Cinema Workshop given by Roberto Romero
(Future Lighthouse, The Greyskull Company, Virtual Voyagers) and Rafa Pavón (Jaunt UK), two of the most outstanding creators of interactive
content in Europe, whose work has garnered more than 50 international awards and has been seen at festivals such as Venice, Cannes,
Tribeca and now, ALCINE.
To bring things to a close, on Thursday the 15 th at 16:30h, we shall be holding the premiere and masterclass of the creators of Madrid Noir,
with James A. Castillo and Juancho Crespo from the prestigious British studio No Ghost.
+info and registrations:
http://alcine.org/seccion/partiendo-de-cero/
360 MULTI-CINEMA AND IMMERSIVE LABORATORY
PROGRAMME
From the 9 th to the 17 th of November from 17 to 20h. Also weekends from 11 to 14h.
From the age of 14. Some pieces do not have audio or subtitles in Spanish.
Access with a ticket picked up at an official ALCINE point of sale.
ALCINE VR PROGRAMME DIRECTOR STUDIO COUNTRY
YEA
R
MIN
S GENRE
LANGU
AGE SUBS
MULTICINES 360
Jurassic World: Blue
Félix Lajeunesse and Paul
Raphaël Felix and Paul Studios US / Canada 2018 5 Adventure English NO
Ray Rafa Pavón Future Lighthouse Spain 2017 6 Fantasy NO NO
The Spacewalker Alexander Gorohov CGFWW Russia 2017 4
Science-
fiction Russian Eng.
Lost in Time Adriano Pérez Gil Adriano Pérez Gil Spain 2017 16
Science-
fiction Spanish NO
Campfire Creepers:
Midnight March Alexandre Aja
Future Lighthouse /
Dark Corner Spain/US 2018 12 Horror English NO
The Other Dakar Selly Rabe Kane Electric South Senegal 2017 7 Adventure English Eng.
Henry Ramiro López Dau Oculus Story Studio US 2015 12 Children's English NO
INTERACTIVE LABORATORY
Madrid Noir [PREMIERE] James A. Castillo No Ghost UK 2019 5 Thriller NO NO
Melita Nicolás Alcalá Future Lighthouse Spain 2017 20
Science-
fiction English NO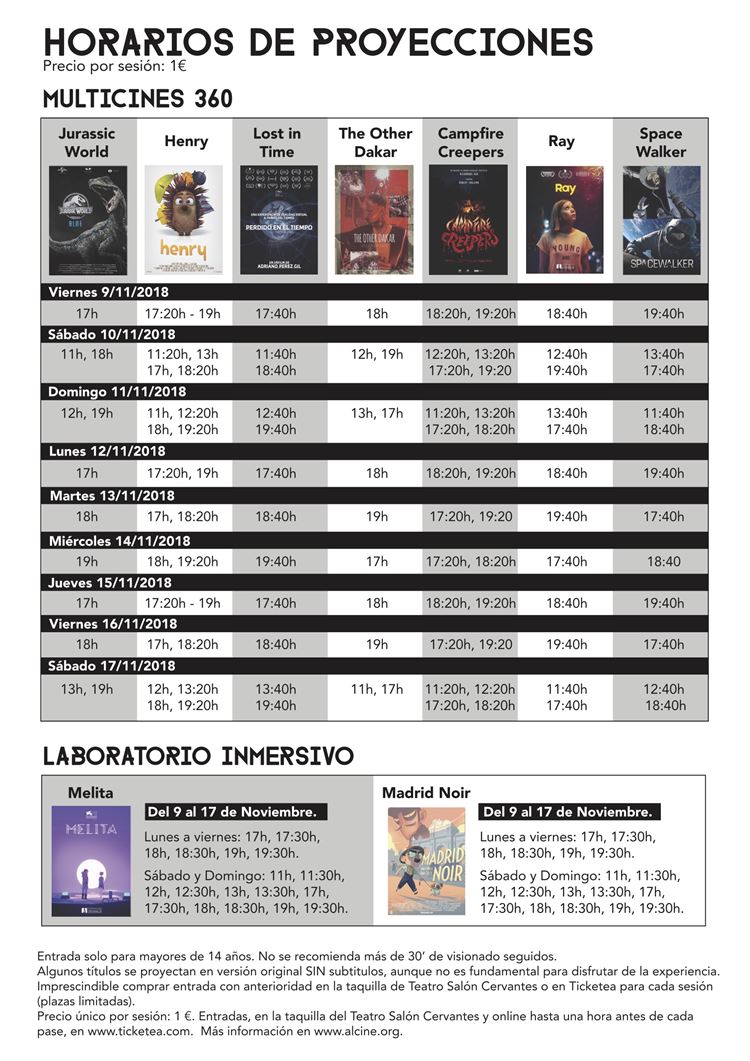 Exhibition credits
ALCINE VR: JOURNEY TO THE CENTRE OF THE MULTIVERSE
A production of
ALCINE – Alcalá de Henares / Community of Madrid Film Festival
Graphic design: Yolanda Benedito
Technical advice and texts: Roberto Romero
Production: Pedro Toro
Technical coordinator of rooms: Víctor Córcoles
Sponsors: Degree in Audiovisual Communication – University of Alcalá de Henares
Provision of pieces and prototypes: The Greyskull Company
Technological assistance: SAMSUNG, Azken Muga.
Concept and curation: Roberto Romero and Pedro Toro