Film Dishes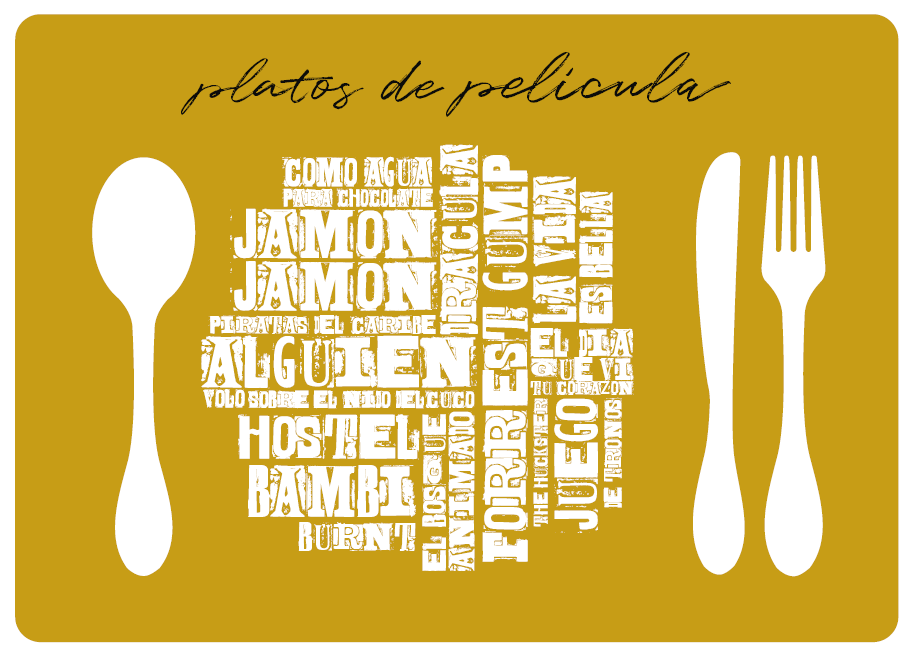 Gastronomy is living a golden age. Far from being a refuge for gourmets and the privileged classes, it is now on the lips of all. And cinema, which has always shown an interest in cuisine (whether it be portraying cooks, setting scenes in restaurants, etc.) is now regularly giving it a starring role in the plot.

At ALCINE we would like to continue investigating the ties between film and cooking, and therefore are holding the Film Dishes section for the second time this year. In conjunction with Alcalá Gastronómica and in cooperation with many of the city's best restaurants, over the days of the festival, film buffs and diners will have the opportunity to taste all kinds of dishes inspired in great films from the history of cinema. Each restaurant will create a dish especially for the occasion, using its imagination and the references each film offer to marry the seventh art with the culinary arts. A great chance to enjoy a gastronomic route whisking us off to various continents, through various cinemas, evoking images through the taste buds and not just the eyes. A sensorial experience that can be enjoyed with the eyes closed.
MIGUEL DE CERVANTES
'20,000 LEAGUES UNDER THE SEA': Grilled octopus, black garlic,
mashed potato and paprika scales.

AL ́ANDALUS
'Jamón Jamón': Lacquered knuckle of pork with apple puree.

RESTAURANTE PARADOR DE TURISMO
'THE HUNDRED-FOOT JOURNEY': Roast and deboned suckling
lamb with smooth masala curry sauce, spiced aubergine and
chestnut puree.
HEMISFERIO LOFT
'FORREST GUMP': Bubba Gump creole shrimp.

RESTAURANTE GOYA
'LIKE WATER FOR CHOCOLATE': Quails with rose petals.

TEMPRANILLO RESTAURANTE VINOTECA
'CLOUDY WITH A CHANCE OF MEATBALLS': A real storm will explo-
de in your mouth when you taste these beef meatballs in tomato
sauce, on a fried egg and white rice.

LA CASA VIEJA
'IN BLACK AND WHITE': Tapa of small cuttlefish in their ink with
frijoles and white rice.

KI-JOTE
'SWEET BEAN': Anko Dorayaki.

EL CORTE INGLÉS
'EL BOSQUE ANIMADO': Aubergine cannelloni filled with pumpkin,
crab, shiitake and walnuts.

PLADEMUNT. EL RESTAURANTE IMAGINARIO
'BURNT': Amaritei cod.

LA CUPULA
'LIFE IS BEAUTIFUL': Warm salmon salad.

SKREI NORUEGO
'LADY AND THE TRAMP': Spaghetti with cod balls.

LA CÁTEDRA- HOTEL BEDEL
'ONE FLEW OVER THE CUCKOO'S NEST':: Salad of pickles and
marinated quail.
Dessert: "DRÁCULA": Coca cola sponge and raspberries with
vanilla mousse.

HOSTAL RESTAURANTE MIGUEL DE CERVANTES
'HOSTEL', from Eli Roth and Tarantino: Steak tartar 2.0.

RESTAURANTE NINO
'PIRATES OF THE CARIBBEAN': Kraken tentacle over holm oak
charcoals on boats of Galician potatoes in the dead sea.

EL CASINO
'ET SOUDAIN TOUT LE MONDE ME MANQUE'
'THE DAY I SAW YOUR HEART' : Café de París entrecote.

LA TERRAZA DEL MERCADO
'BAMBI': Sirloin of venison in its juice with roast sweet potato puree
and vegetables.

MARTILOTA
'THE HUCKSTERS': Grilled halibut with creamy truffled cauliflower
and tobiko eggs.

SEXTO SENTIDO
'GAME OF THRONES': Lemon tarts.
Enjoy your cinematographic meal